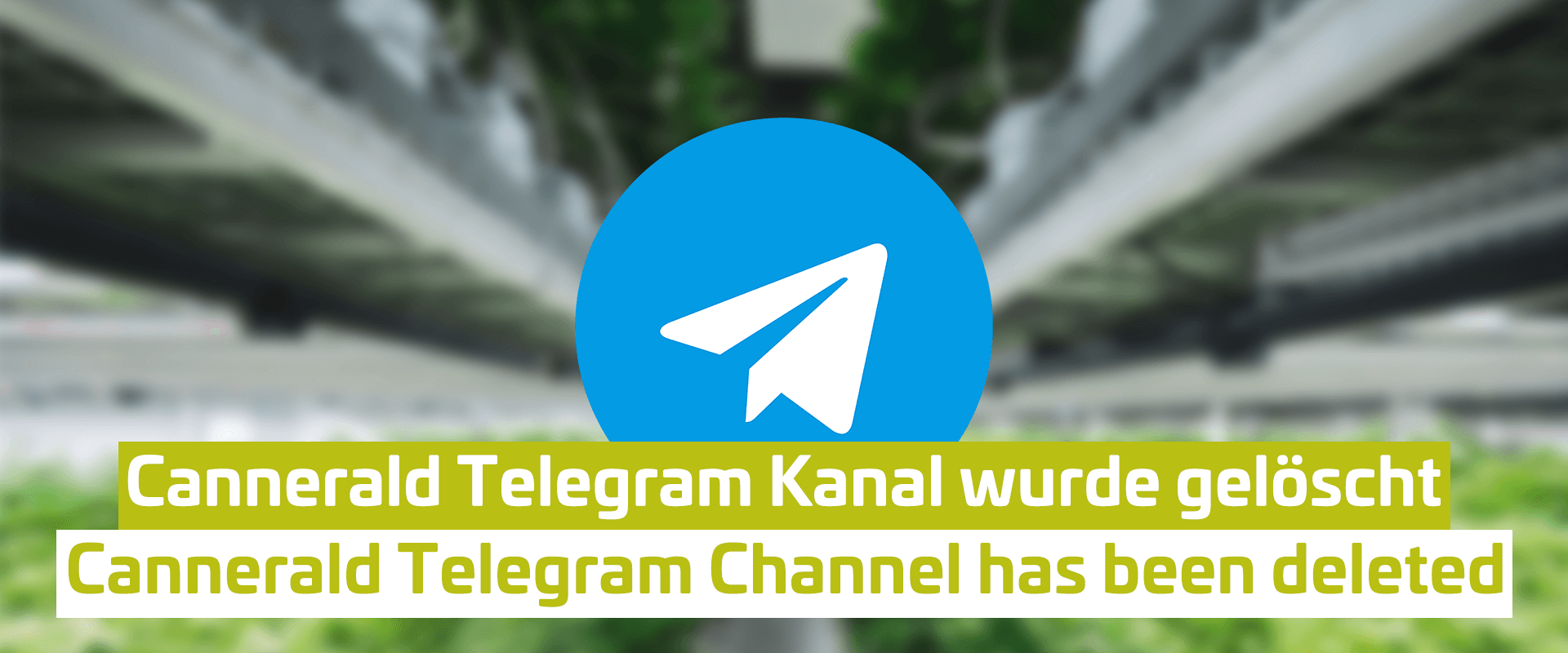 Cannerald Telegram Channel has been deleted
by Cannerald
Posted on July 29, 2022 18:00
---
Dear Cannerald and CannerGrow Community,

Important Update (24.08.2022): New Cannerald and CannerGrow Telegram Channel
As we didn't get any response or Feedback from Telegram, even though we've asked multiple times via multiple different contact options, we opened up a new Telegram Channel.
👉🏻 Join the new Telegram Channel now (click) 👈🏻

this information was already published by us on Wednesday afternoon via email newsletter.
Due to hundreds of inquiries from anxious customers in our support with the question why our Telegram channel has disappeared and whether we have kicked/deleted all subscribers, here is the information in the blog again, please share it with all partners and customers.
As there has been a lot going on in the "cannabis industry" over the last two weeks:
It is best to visit us personally on Saturday, July 30th, 2022, on the open-door day and get your own impression of our production and thus Europe's largest indoor cannabis production!
➡️ All information about the open-door day can be found here (click)

on wednesday morning our popular Cannerald Telegram News Channel was banned or deleted by Telegram.
After an immediate check by our IT, it was determined that our channel had been reported and Telegram had either automatically blocked or deleted our channel due to many reports from third parties within a short period of time or after checking the reports manually by Telegram Support.
We strongly assume that third parties want to harm us...
because for the past 3 years we have never had any problems with our channel, which last had about 7800 members.
This so shortly before the Open-door day and Transparency Day, the channel was probably reported by hundreds or thousands of bot accounts and then deleted.
We have already contacted the Telegram Support and sent Telegram documents in the hope that our Telegram News Channel will be activated again in a timely manner very soon.
Unfortunately, we haven't yet received an answer.
Please be patient, we know it's very annoying, because we've always been able to inform you in real time via Telegram, as well as to share pictures and videos with you there.
As soon as we have final feedback from Telegram Support, we will share it with you immediately.

Important Update (24.08.2022): New Cannerald and CannerGrow Telegram Channel
As we didn't get any response or Feedback from Telegram, even though we've asked multiple times via multiple different contact options, we opened up a new Telegram Channel.
👉🏻 Join the new Telegram Channel now (click) 👈🏻

Never miss important information again:
👉🏻 Cannerald Telegram Channel (click)
👉🏻 Cannerald Blog (click)
👉🏻 Cannerald YouTube Channel (click)
👉🏻 Cannerald Instagram Channel (click)


#WeGrowForYou
Your Cannerald & CannerGrow Team